Share in the Success
With considerable growth in the gaming market year on year, plus the fact that gambling is becoming a more sociably accepted form of entertainment, it simply makes sense to incorporate Limited Payout Machines (LPM) into your venue.
By choosing to partner with Grandslots, you can be assured of superior quality gaming equipment, as well as the support of a company who values your individuality and respects your independence.
Ready to Roll?
If you are keen to find out more about this money-spinning venture, please download our complete brochure here or set up a meeting with one of our Area Managers by calling our Help Desk, open 7 days a week between 08h00 and 02h00, on 087 405 2777. Just think of the value you will add to your venue! You have nothing to lose, and SO much to win!
Elevate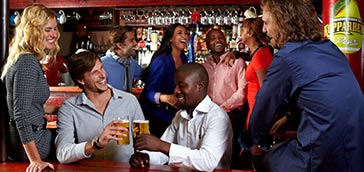 Elevate is an exclusive LPM site owner partnership programme established to support the interdependence between us, the LPM route operator and our LPM site owner partners.